When kids get to a certain age, particularly for girls, they often dream of a disco party. With a disco party for kids however, you really need to find the right party supplies to set the tone. Adults love a 1970s disco party, but kids generally have something a little different in mind. So how can you create a fantastic disco party for your child? Read on… For details or where to buy information of the items listed please click on the images.
The first thing to consider is the venue. Disco parties can be fairly easy to have at home because all you need to do is clear out a large room, find a stereo and some lights, close the curtains- and hey it's a disco! However if you aren't keen on having a disco party at your home, many local halls can be hired quite cheaply for discos and they often know of discos or djs that can set your party on fire too!
The first thing to consider for a disco is the disco party invitations. These fully customisable invitations below are a great way of setting the tone for the party. Be sure to let people know that it's disco dress! Click the image for where to buy information.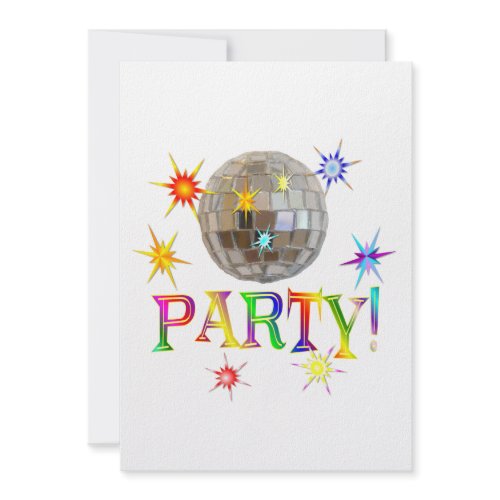 Party!
by
TLArnold6
Join one of the largest
artist affiliate programs
Next up you need decorations. With most discos the room will be at least partially darkened so it is all about the disco ball and the disco lights. If you are hiring a professional disco then they often bring their own disco lights so there may be nothing for you to do. If however you are hosting a more DIY disco party there are lots of options to consider that might work well for you. When it comes to choosing the level of lighting remember that for children under ten years you probably don't want it too dark as some may (secretly) still be afraid of the dark. Older children and teenagers will probably prefer a more darkened room, however.
One thing that often goes down well at birthday parties too is a karaoke machine. Bear in mind though that you need to let your child guide you in the choice of music. If the children don't know the music they won't enjoy it nearly as much.
Singing Machine SML-390 Disco Lights CDG Karaoke System – SML-390
When thinking about music the obvious choice is that it should be upbeat and funky, something that the kids can dance to. A disco party for kids just wouldn't be the same if there weren't any kids dancing. So whilst it is a great idea to have some disco songs to really get things going it's also a good idea to create a compilation of upbeat, danceable music that your child and their friends know really well. If they hear a song that they know and love they are more likely to dance! Remember too that children have short memories and often like to dance to what they are hearing on the radio now.
So, you have your venue, your music and your decorations…. but what about food? If you plan to serve food, try and make it small bite size pieces. When children are hot and sweaty from dancing they may welcome the chance to stop and have a rest but they are just as likely not to and to decide that they are having too much fun to eat! One thing I have found with hosting a disco party for kids is that you need to supply a lot more drinks than you imagine. Kids really go for it when they are dancing, and in order to keep them properly hydrated you need to make sure that you have plenty for them to drink.
Firstly, set the tone of your food table with this fantastic centerpiece:
How about these fantastic disco cups. These come pre-approved by my own daughter! Make sure that you buy plenty because children tend to get very thirsty at a disco party if they are dancing.
There are also matching plates. Even if you are only serving birthday cake or finger food at your party it is still a good idea to have plates for your guests to use. Bear in mind that if you plan to serve the food at a different time to the cake you might need two plates per guest.
If you want to make things easier for yourself there are some fantastic party packs that come with everything that you need for your food and table setting all in one convenient pack. This deluxe party pack below includes 16 Disco Dancer Lunch Plates, 16 Disco Dancer Lunch Napkins, 16 Disco Dancer Paper Cups, 2 Disco Dancer Plastic Tablecover 54 x 102, 16 Plastic Kiwi Forks, 16 Plastic Kiwi Spoons, 16 Plastic Kiwi Knives, 16 Disco Party Invitations, 3 Disco Ball Cutout, 1 Disco Prismatic Letter Banner, 2 Disco Die Cut Prismatic Centerpiece, 20 Kiwi Balloons, 1 White Curling Ribbon 66ft, 1 Apple Green Crepe Streamer 81ft, 1 Bright Royal Blue Crepe Streamer 81ft, 1 Disco Metallic Confetti, 1 Disco Square Bowl. What more could you possibly need!
Disco Deluxe Party Kit
Every kids party needs party favor bags and a disco party for kids is no different. These fantastic Disco themed bags are only 99c each and are perfect for putting party favors in. They come in 10x4x6 inch size and are a great reusable reminder of your party.
Looking for great disco party favors to put into your disco bags? How about these disco ball necklaces. These are great fun for your guests and will help them to continue their disco fever long after your disco party is finished.
These disco ball keychains are another great disco party favor. Children love to attach key chains to their school bags or sport bags and these are sure to be a hit with kids everywhere.
Want something really special for your birthday boy or girl? These flashing LED disco patches for t shirts will give your child an amazing disco outfit for their party. It comes with a washable velcro patch on the back that allows it to be attached to any piece of clothing. Sound activated, it flashes differently when you talk or when you are at a disco party.
Have a fantastic disco party!
Remember these when you were a child and how much you loved them? The good news is that they are still around and that the younger generation still love them too! The only tip I would have about these is that they are great fun, but to purchase a couple of spares. In my experience children break these fairly swiftly dancing around in them, and it's a good idea to have spares to prevent any tears.
Whether or not you keep these bracelets for your favor bags or decide to let the kids have them to have fun with is up to you. Either way there is nothing that children love more than these glowing bracelets. Just bear in mind that they probably aren't a great idea if the children at your party are very young as they could leak if bitten or chewed. Great fun for older kids though and they will help light up your disco party.